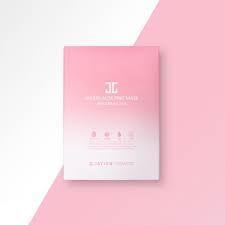 A hydrating & replenishing facial sheet mask.
Features soft ultra-thin & natural Lotus Tencel Sheet.
Provides a comfortable fit to skin & enhances absorption effect.
Contains aloe vera & pink flower complex to soothe & moisturize rough skin.
Blended with Rosa Damascena Flower Extract to soften skin.
Infused with Rosa Canina Flower Extract for revitalizing properties.
Instantly calms & energizes tired-looking skin.
Leaves skin dewy smooth radiant & refreshed.
Hypoallergenic cruelty- & paraben-free.